News
27.06.2023
1 min
Orbitvu USA hosts free webinar for Furniture Industry
Orbitvu USA invites furniture manufacturers, retailers and creative teams to join a free webinar on Thursday 29th June 2023, at 11:30am EST / 8:30am PST, to learn more about our newest product photography solution - Furniture Studio, a predefined configuration of E-COMM STUDIO+ .
The Furniture Studio is a predefined configuration of E-COMM STUDIO+ and is specifically designed with the furniture industry in mind.  It is a software-controlled automated studio for product photography and its users can shoot stills, videos, and 360° spins of furniture pieces up to 6.5 feet high in a consistent manner. All of it in-house! .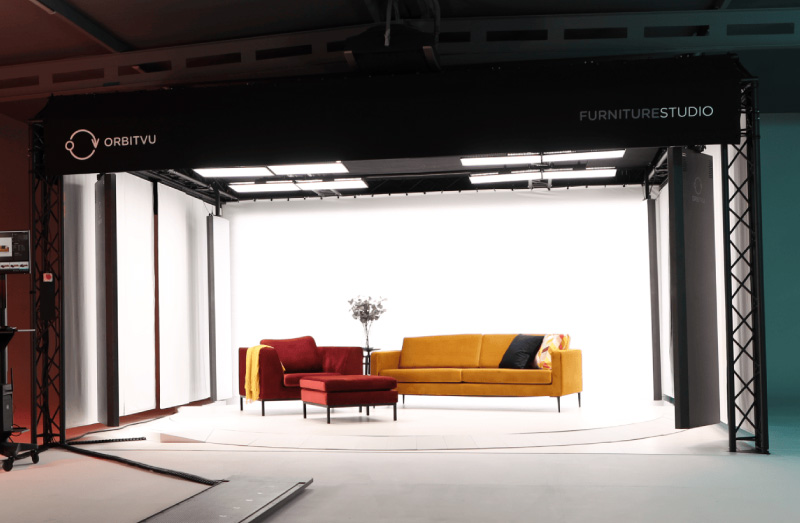 This automated large-scale device allows for photographing single pieces of furniture as well as entire sets with unprecedented speed and precision. Its versatile applications include videos and 360-degree views.  This studio has a number of configurable accessories that aim to improve workflow. One of the most impressive accessories is the motorized platform that can hold up to 8,800 lbs and allows its users to easily shoot large and heavy furniture pieces in consistent predefined angles.
No more heavy lifting or inconsistent shoots! With the E-COMM+ Furniture Studio the photoshoot is as easy and enjoyable as ever.:  https://orbitvu.com/product/e-comm-studio/  
The ECOMM+ Furniture Studio is a sturdy 19ft x 19ft x 9ft truss construction that holds all studio components but its real strength lies in the following key features:
Orbitvu platform - it has a 16ft diameter low profile rotating platform that can hold up to 8,800 lbs. This accessory makes it possible to shoot heavy furniture pieces from all angles effortlessly. 

Powerful lighting - all the lamps can be controlled remotely from the computer. This greatly simplifies the workflow and makes the photoshoot go smoother and much more enjoyable.

Top camera mount with motorized zoom - this accessory makes the top-view shots easier than ever before and provides much-needed product insight. 

Orbitvu Motorized Stand - allows controlling camera height, tilt, zoom levels, and the camera's distance from the subject with ease. 
All in all, it is an incredibly versatile platform with limitless potential and provides its users with everything they need to make 360° spins in under 3 minutes!
The webinar on Thursday 29th June 2023 will provide attendees with an introduction and complete workflow demonstration of the ORBITVU E-COMM STUDIO+ configured as the Furniture Studio.  The session will include live shooting followed by a Q&A session.  The webinar is free of charge, but registration is required to receive the link to join.
Register here
Dive deeper into the E-COMM STUDIO+ possibilities here