News
06.04.2023
4 min
Orbitvu Station 23.1.0 - All Organized & Ready for Spring!
Spring has arrived, and so has our latest release of Orbitvu Station 23.1.0, "Tidy Toolbox". There are fresh features, a bunch of improvements, and some fixed bugs - in short, everything you need to make the product photography process easier than ever! 
What's new, what's improved, and what's fixed? Find out below!
Create folders in the PUBLISH tab with 1 click
One of the standout features of Orbitvu Station 23.1.0 is the ability to create folders that group publish profiles. This new feature makes it easier than ever to organize your publishing process and switch between groups of publish profiles quickly and efficiently.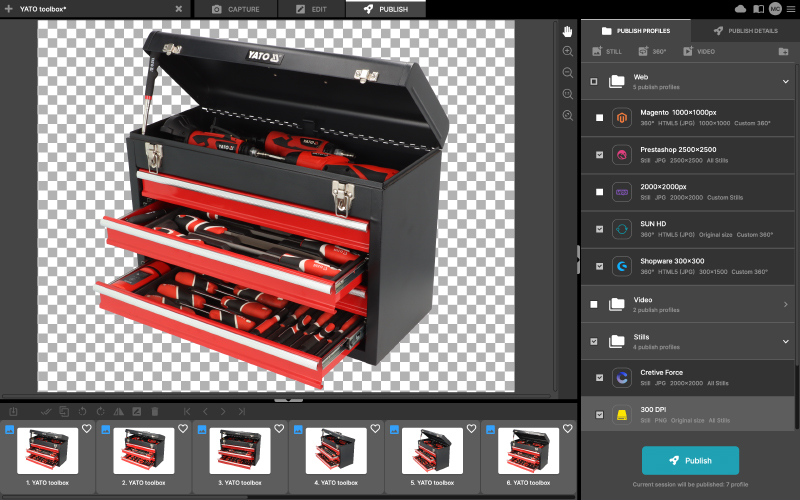 Another exciting new feature is the transfer of exif metadata of the original JPEG files to the exported files. Now, each exported image or layer (Still Assets - PNG, TIFF, JPEG, WEBP) contains the exif metadata of the original photo. Choose the format that suits you best and keep the original exif metadata.
Orbitvu Station 23.1.0 also introduces the support for the newest Orbitvu hardware, including the new, updated Motorized Stand (244H3) and a new Motorized Zoom v5. Plus, the latest Canon EOS R8 is already supported in Orbitvu Station.
In addition to these new features, Orbitvu Station 23.1.0 comes with a range of improvements. We have redesigned the session creation window to accommodate longer values and added new tooltips to make Orbitvu Station even more user-friendly. We have also improved the name pattern of publish profiles, making it easier to generate a user-defined name pattern.
We have improved the Creative Force integration as well, with a more accurate progress bar while publishing and the ability to create sessions with special characters in their name. The name validator is now disabled when the integration is switched off, and the list of products is no longer available after logging out.
Orbitvu Station 23.1.0 also incorporates several bug fixes, including an issue with the Orbitvu Station license keys and long e-mail domain names. Also, we resolved the problem with the slow publishing process that caused the application to crash as well as reintroduced the possibility of importing 8 bit TIFF files.
But there's more! The full list of bug fixes and improvements can be found in our Orbitvu Station changelog.
Overall, Orbitvu Station 23.1.0 is a must-have tool for anyone looking to streamline their product imaging process. With its host of new features, improvements, and bug fixes, this latest release will make your workflow faster, more efficient, and more productive than ever before. So try it out today and see for yourself!
If you have an active Support Plan, the Orbitvu Station 23.1.0 release is now available to download from the Orbitvu SUN Cloud platform.
Don't have an active Support Plan? Then, contact our sales department at [email protected] to get access to all the innovative features Orbitvu software has to offer!
Articles you may also like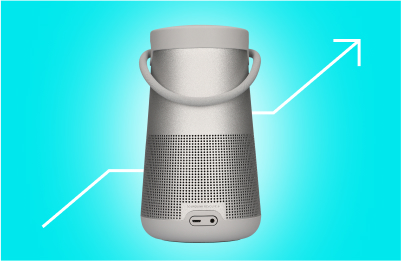 E-commerce
13.04.2023
10 min
5 ways to boost e-commerce sales with product photography
The e-commerce industry is thriving. There's no doubt about it. In fact, e-commerce is expected to account for 24% of global ...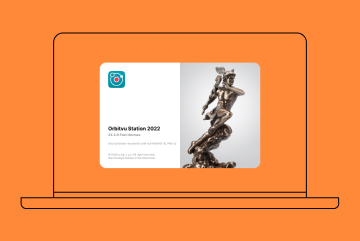 News
21.12.2022
5 min
Orbitvu Station 22.2.0 "Fast Hermes" brings new features and accelerated content creation
The newest version of our photo automation software, Orbitvu Station, has just hit the market. With the 22.2.0 "Fast Hermes" ...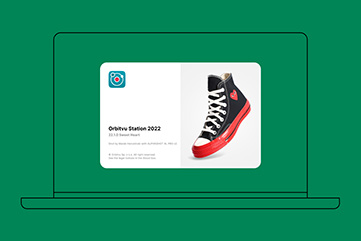 News
27.09.2022
10 min
Orbitvu Station 22.1.0 – Improved Look for Your Convenience!
Many new features, plenty of improvements, and some important bug fixes for increased stability. That's what's coming with th...