Many new features, plenty of improvements, and some important bug fixes for increased stability. That's what's coming with the newest release of Orbitvu Station software, to speed up your work even further! Curious what are the changes? Want to learn how they will affect the way you use our tools?
Join us as we go over the Orbitvu Station 22.1.0 release in detail to see the new, the improved and the fixed. And you might just also find out where the Sweet Heart name comes from…
What's New…
After opening our software in its latest version, you will be greeted by a new, totally redesigned content bar.
The images you've captured are now displayed in one instead of three rows used previously, while the content is divided into types of Assets – still, 360 image, and video. Moreover, if you shoot stills using the Capture All button, you will find the effects of your work conveniently grouped in one place and you can use filters to adjust what content is visible at a given point.
We've also introduced an option to add multiple 360 Assets into a single session, which lets you keep different 360 variants of the same product under a single session ID – this way, you'll be able to choose the version you want to publish after you are done shooting.
Adding Images to Favorites
Want to highlight the photos you like the most? Or maybe you need to consult your colleague later, to see if the results of your shoot meet the requirements? With Orbitvu Station 22.1.0, you can now add the images to your favorites. The heart icon you can see in the top right corner of the photo is what lets you pick and choose the best pictures. Yes, you guessed right – the sweet little symbol is also where the release name comes from.
New Capabilities of the Edit Tab
Thanks to the latest release, you can publish the Assets chosen as favorites with a specially configured profile right in the Publish tab. Additionally, you can select the Assets that you want to upload without the need to manually enter values in the publish profile and you have the possibility to perform graphic operations, like color adjustments, on all types of Assets at the same time.   
Unlocked Camera Shutter Button
You can grab your camera and manually release the shutter, which will add some perspective to your product photo, making it more detailed and attractive. However, please note that the IQ Mask is unavailable in this mode and the feature itself is still in beta.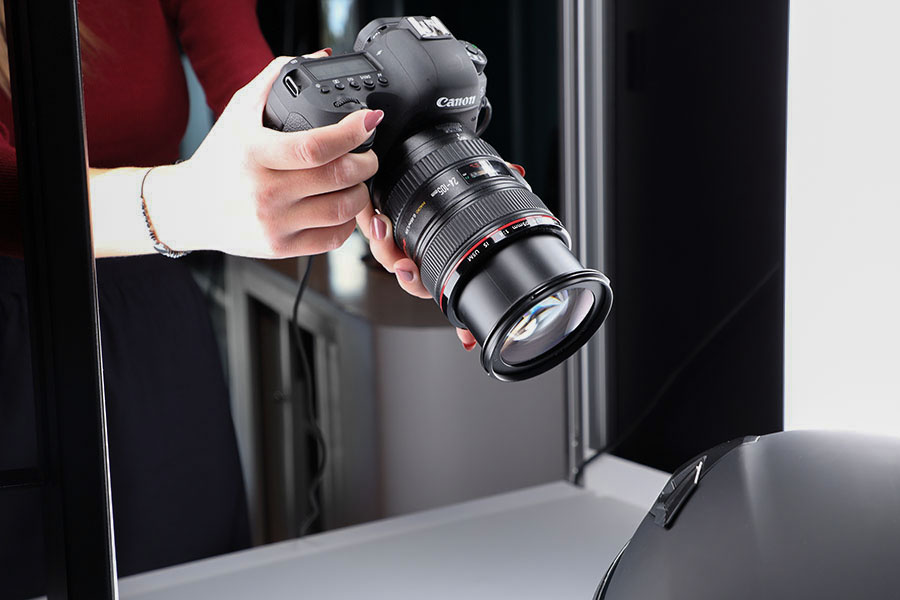 Adding Extra Images to 360 Assets
Get creative in making 360 Assets with additional fancy animations thanks to a new feature which allows you to add additional photos to your 360 Assets with a click of the single capture button.
Support of .webp for Exporting Still Assets Locally
Thanks to advanced compression algorithms, the long-awaited file format now supported by Orbitvu Station will let you get significantly lower file sizes while keeping the same quality as its counterparts, which is great for SEO and means even quicker content upload to your servers.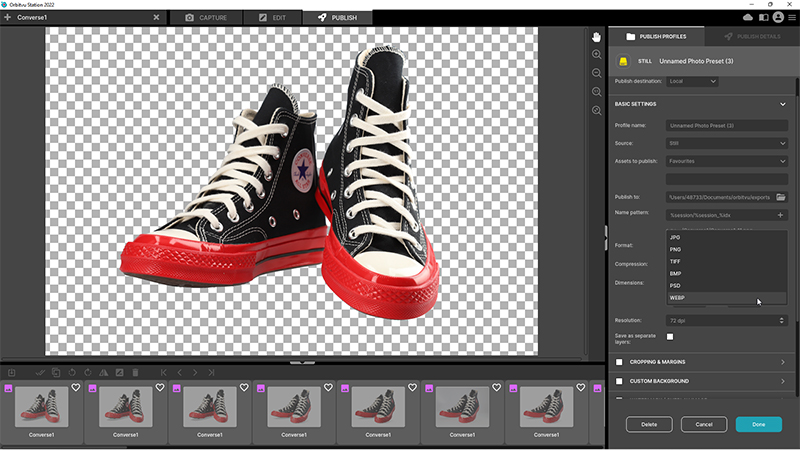 The other enhancements of the latest release include:
timeout for the laser markers in the Orbitvu devices – from now on, you can set when the laser markers should turn off, so you'll always be sure that they are off when you leave your photo studio.
full support of the new E-comm Studio device
So, those would be the fresh additions – let's get to the things you already know! Of course, they will have to reintroduce themselves, now that we've made them even more user-friendly.
What's Improved…
When thinking about the upgrades of Orbitvu Station software, you can basically separate them into a few categories.
Firstly, there are interface improvements, which increase the intuitiveness and make using Station much smoother. What are the changes in this regard? We have:
made publish profiles easier to select, thanks to more detailed descriptions on the labels.
added new, more descriptive tooltips throughout Orbitvu Station.
redesigned the entire UI, unifying its colors and improving the clarity of buttons.
removed the need to use the "High quality preview downscaling" option, so that the Assets will always be displayed in full quality.
Secondly, our aim was to improve the way Orbitvu Station works as well as how it cooperates with the hardware – regardless if it's ours or not. This means optimizing the graphic operations within Station for more accuracy, introducing a function that allows post-calibration testing to make calibrating turntables even better, and improving beta support for Sony cameras.
…And What's Fixed
But that's not everything. We have taken a look at the feedback of our users to get rid of some recently reported issues. This means that all of those small bugs will no longer trouble you when you are working on our software in its latest version. Interested in the full list of bug fixes introduced with the "Sweet Heart" update? Check out the release note available in the Orbitvu Station!
Come Meet Our Sweet Heart!
If you have an active Support Plan, the Orbitvu Station 22.1.0 release is now available for you to download free of charge from the Orbitvu SUN Cloud platform. Please note that after you open and save or create a session in Orbitvu Station 22.1.0, you won't be able to open them in the older versions.
Don't have an active Support Plan? Contact our sales department at [email protected] to get access to all the innovative features Orbitvu software has to offer!
Or maybe you are not sure how to take full advantage of the new features? See our manuals and learn everything you need about using Orbitvu Station.