The Orbitvu SUN Cloud gets a handy upgrade in user experience with the launch of new functionalities and an overhauled menu. We've made use of data collection to provide more informativeness to our users and allow them to track statistics of their operations in the SUN. Read on to find out what has been introduced and how this may affect your experience.
Orbitvu SUN Cloud has been introduced to deliver a reliable cloud platform for our users, where they could store and manage their visual assets. What's more, this solution is to allow for easier distribution of visual content, as it offers external access and numerous embed options for various platforms like WooCommerce or Magento.
As part of this year's upgrade, the SUN is improved with user activity data collection, which will result in the new "Reports" functionality. The SUN menu is rebuilt to become more user-friendly and informative. Let's examine what has been added.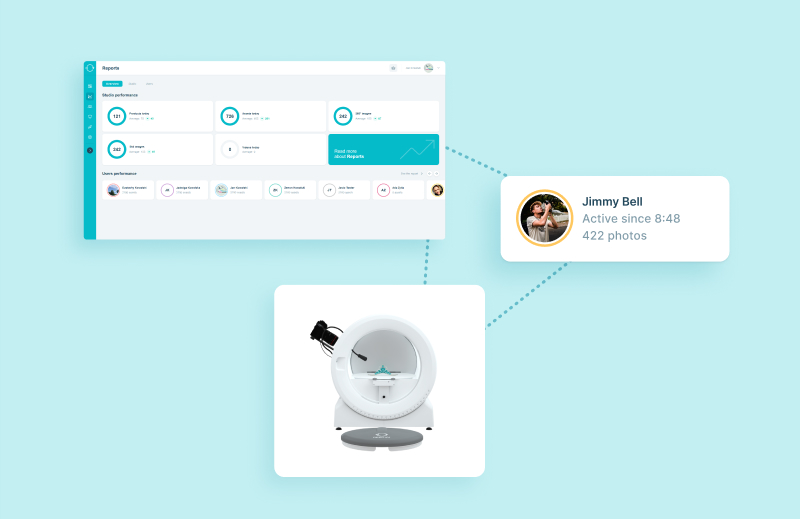 "Reports" tab
The main function of this new tab is to allow you to check and analyze the collected statistical data on the use of your Orbitvu devices. This will be especially helpful, if you work across a range of more user accounts and more devices.
Only you and your employees who have been granted access can view the statistical data, which is not shared by Orbitvu with any other entities.
NOTE:
For the data to be collected, users need to be logged in during their Orbitvu Station sessions. This way, data can be assigned to particular users and you keep full control over device usage tracking.
The "Reports" tab starts with a dashboard that displays the daily number of products photographed, plus the amount of stills, 360° product images, and videos taken. The pie charts around the numbers display the ratio between the photographs/videos taken today and the daily average of the last 30 days. This way, if you photographed more than average today, the pie chart will be full.
Each of the pie charts, when clicked, gives access to a more detailed view. This includes a colored bar chart, where the activity (number of products, stills, videos etc.) is displayed for a range of office hours/days. You retain full control over the hours/dates range, users involved, and pie chart/bar chart view selection.
NOTE:
Depending on the role assigned to a user, they will be able to display more detailed data or only the basic dashboard view. Editor role holders have access to data regarding their own activity, while Managers and Administrators can view all the data collected in the studio.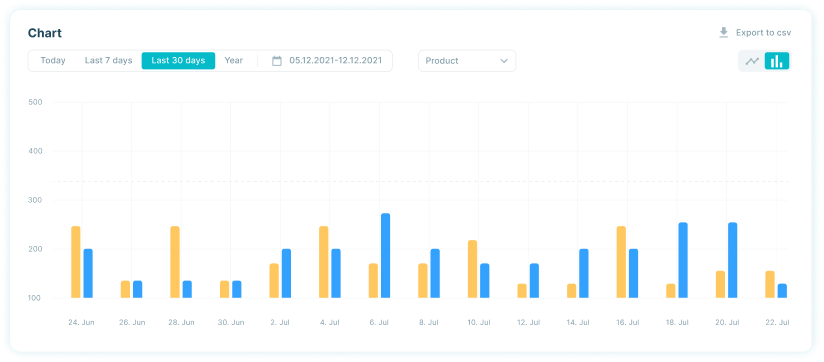 "Studio" tab
If you wish to examine all data gathered in the studio, this is the tab you go to. On a line or bar chart, you will be able to visualize the daily production of stills, 360 views, videos in the whole studio.
The chart customizations include date ranges, a user filter, and a choice between "Products" and "Assets" display.
There is an option to export the data to a CSV file, which will allow you to track data over longer periods and use external BI software.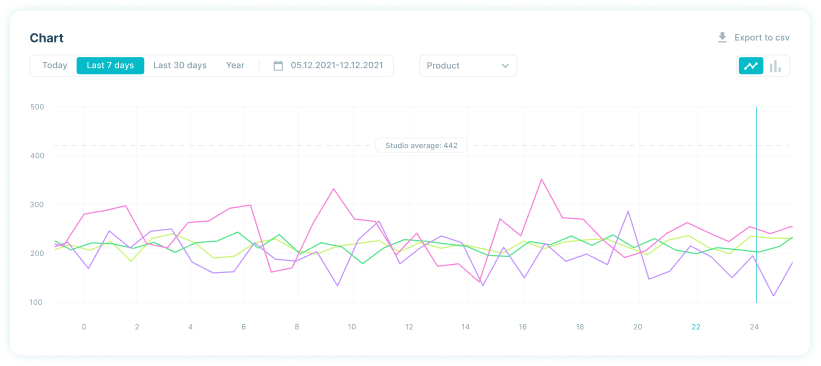 An extended menu and a new dashboard
The menu of the SUN service has undergone changes to house more options. It is now possible to hide it and roll it out by clicking on the arrow in the corner.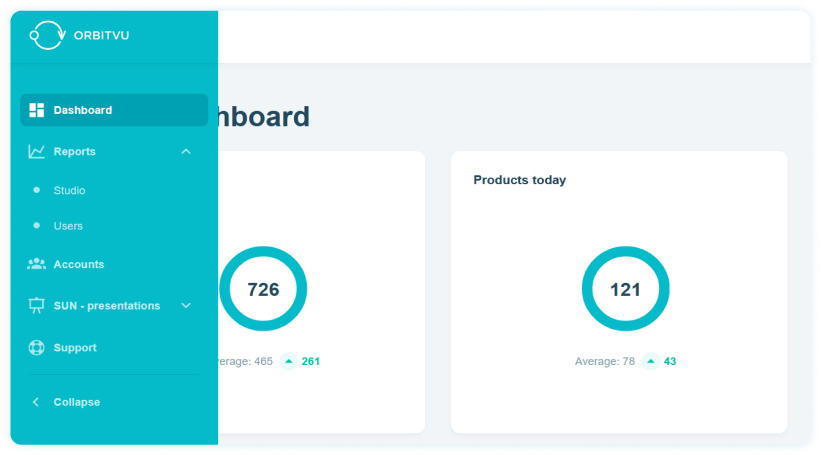 The most important option added is the new Dashboard. Logged in users will be able to check pie charts showing the number of assets and products shot on a day in the studio, plus a module with total user activity showing the numbers of assets taken by each user.
"Users" tab
This will be your center for the monitoring of user activity. Practically designed user tiles allow you to add and remove user lines from the large bar chart below and display the number of assets taken by users in a range of dates.
The user tiles illustrate the sum of assets taken by a user since the beginning of his activity, while the main chart will allow you to see more detailed information spread by asset type and covering all user activity. Each user will have a color assigned to mark their activity on the charts.
Below they will find information bars showing the SUN storage capacity and transfer allowance within the current subscription plan.
A new user profile
Changes touched the user profile as well. You can access it from the roll-out menu in the upper right corner, right near your avatar.
What you will be able to see and change in the user profile, depends on the permissions you have been assigned as a user. The options available include:
changing your name and surname
changing your email address
setting a different language of received email notifications
editing your time zone
checking the role and rights level you have been assigned (Admins have an option to edit the user rights)
changing your password
deleting your account
You will also be able to add a photo to your profile. The added photo can be deleted or replaced any time you wish.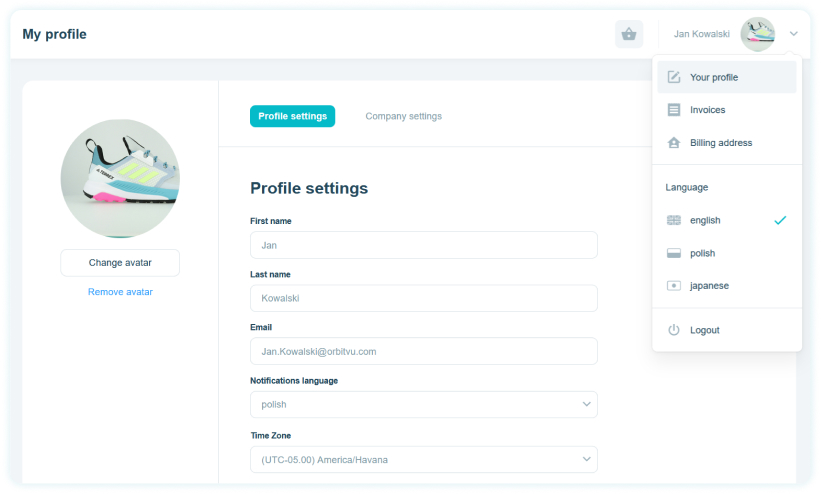 The company profile tab has been changed to include more information. You will be able to edit the list of users who will receive email notifications regarding the status of the company account. Control of email notifications language has been added for your convenience, as well as an option to manage custom attributes added to your presentations online.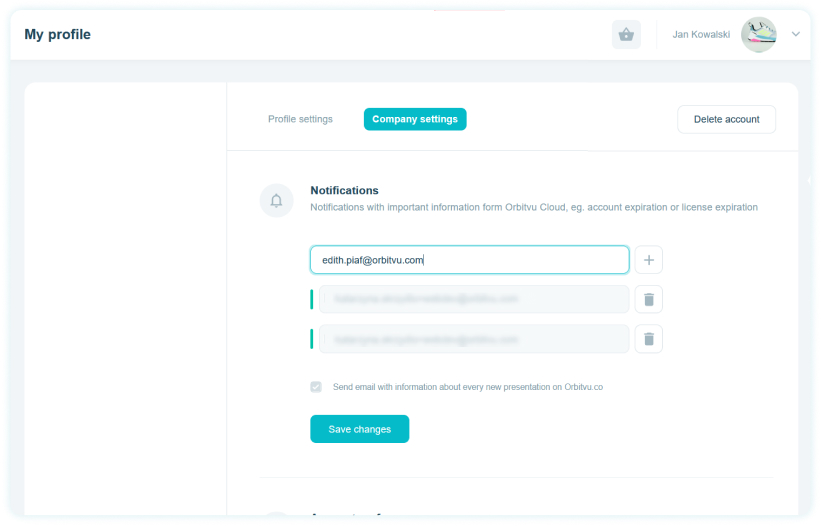 Administrator users will have an option to access the "Invoices" tab, which will now allow them to view the list of all invoices and download them directly from the interface.

As an Administrator, you will also be able to change the Billing address of the company.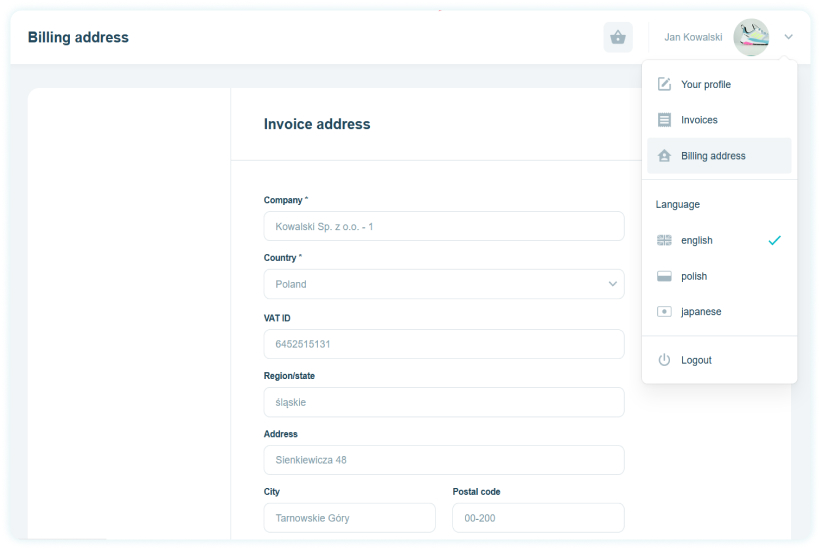 Users management
The Administrator role will also allow you to manage the list of users added to your company account. The management covers the user role and activity status. To find the option go to the Accounts tab from the menu and click "Edit user details".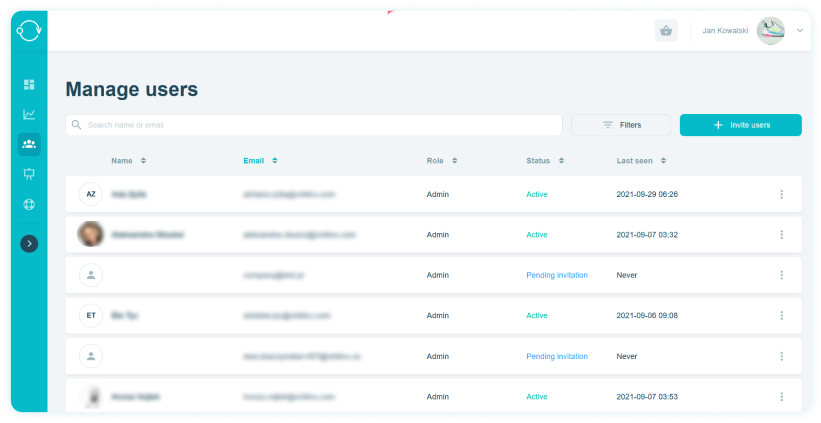 Thanks to the "Invite users" option you can add new users. An invitation can be sent to up to 5 adresses and the message included is fully editable. You set the role for each user, save the form and send invitations. There is also a default invitation available, should you decide to save time on sending messages. Optionally, a link can be generated and sent externally to let a new user join as Editor.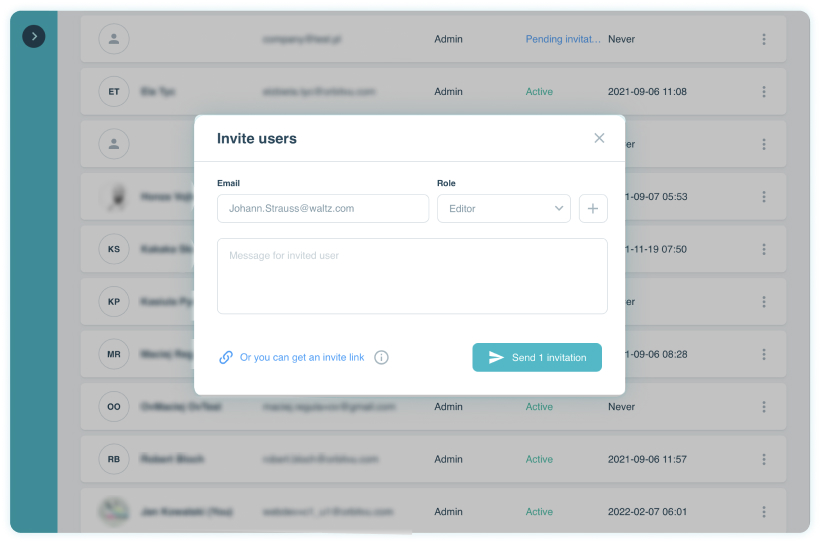 Summary
The Orbitvu cloud solution is brought to a new level of informativeness thanks to the new "Reports" functionality. Studio managers will receive more control over employees and information that helps to streamline the content production processes.
At the same time, the interface menu has gained a new clarity to allow for quicker access to all useful functions. We continue to develop Orbitvu SUN for your convenience, so do not hesitate to contact our sales team for a demo of our devices. The SUN asset management platform goes together with all of them.
Reach out also to our support team in case of any doubts regarding the changes, we will be happy to help.