We all waited for the release of Orbitvu Station 21.2.0 "Fancy Biker" last summer. Now the software gets a revision edition in the new efficient and user friendly version 21.2.1.
New options have been added in video recording and camera management. Bug fixes covered the user interface and camera compatibility, while simplicity was the key in designing the new login system.
A quick look at the improvements of our new revision edition will help you to get the full benefit of the change.
Improvements
Single login
We improved the overall integration with cloud services by adding the option to log in to the Orbitvu ecosystem at the startup of the application. This gives access to online manuals and tutorials. You can also use statistics (coming soon) and the SUN cloud with just a single login.
Sound export in videos
Orbitvu Station now allows you to choose to publish videos with sound. Videos recorded with sound are kept within your project waiting for publication. In the final "Publish" workflow stage, you can additionally decide whether to export sound or not.
Enable this option in "Preferences" and enjoy the added benefits of multimedia presentations. Remember about proper sound recording configuration in the camera.
Remove unused cameras
The option to remove cameras from the camera list will allow you to keep pace with equipment changes and let your Orbitvu Station stay orderly and practical. If you replaced the cameras in your Orbitvu device, there is no need to see them on the list.
To remove a camera, just press the bin icon on the list and confirm it in a dialogue box.
Alphadesk v2 integration
The new revamped Alphadesk v2 hits the market this autumn and it is already fully integrated and supported by Orbitvu Station.
Enjoy the lighter and elegant construction of the device and work effectively with its broad range of features.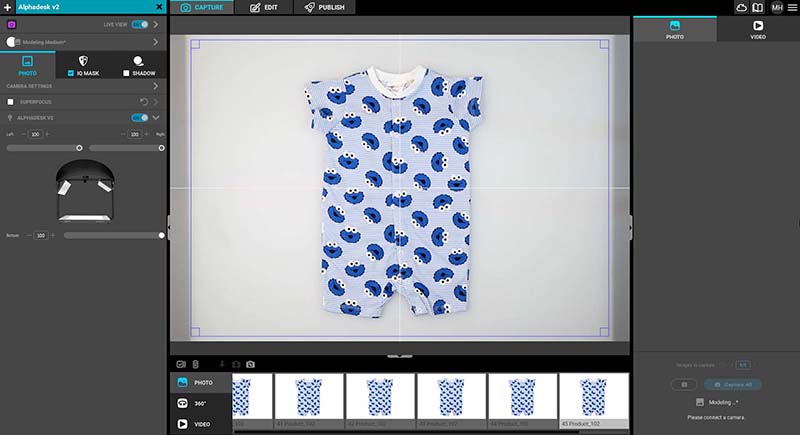 Bug fixes
Among bug fixes in Orbitvu Station 21.2.1, you will find those referring to material publication, camera usage and interface functioning.
Cropping & Margins function
Objects are now published correctly in all cases while using the Cropping & Margins function. Unexpected image deformations have been eliminated.
DPI setting in PSD file export
You can now freely set the DPI parameter when exporting to a PSD file. More than 72 dpi will no longer pose a problem.
Lights and camera synchronization
The synchronization between lights and cameras has been improved. Anytime you move from "Capture" to "Edit" mode and back, the lights will follow by switching on or off.
OpenGL graphics acceleration can be disabled
It is now possible to disable OpenGL acceleration in "Preferences". This will be useful, if display issues occur with the user interface in case of some graphic cards.
Translation improvements
As always, we care about the language support of Orbitvu Station. We introduced minor translation fixes.
Get all the fixes – update now!
For our clients with an active Support Plan, Orbitvu Station 21.2.1 is available to download free of charge from the Orbitvu SUN platform.
If you wish to gain access to all the innovative, useful features of the revision edition but have no active Support Plan, you can purchase it from your SUN account or contact our sales department at [email protected].
Not sure how to use the new features? Check out our manuals.