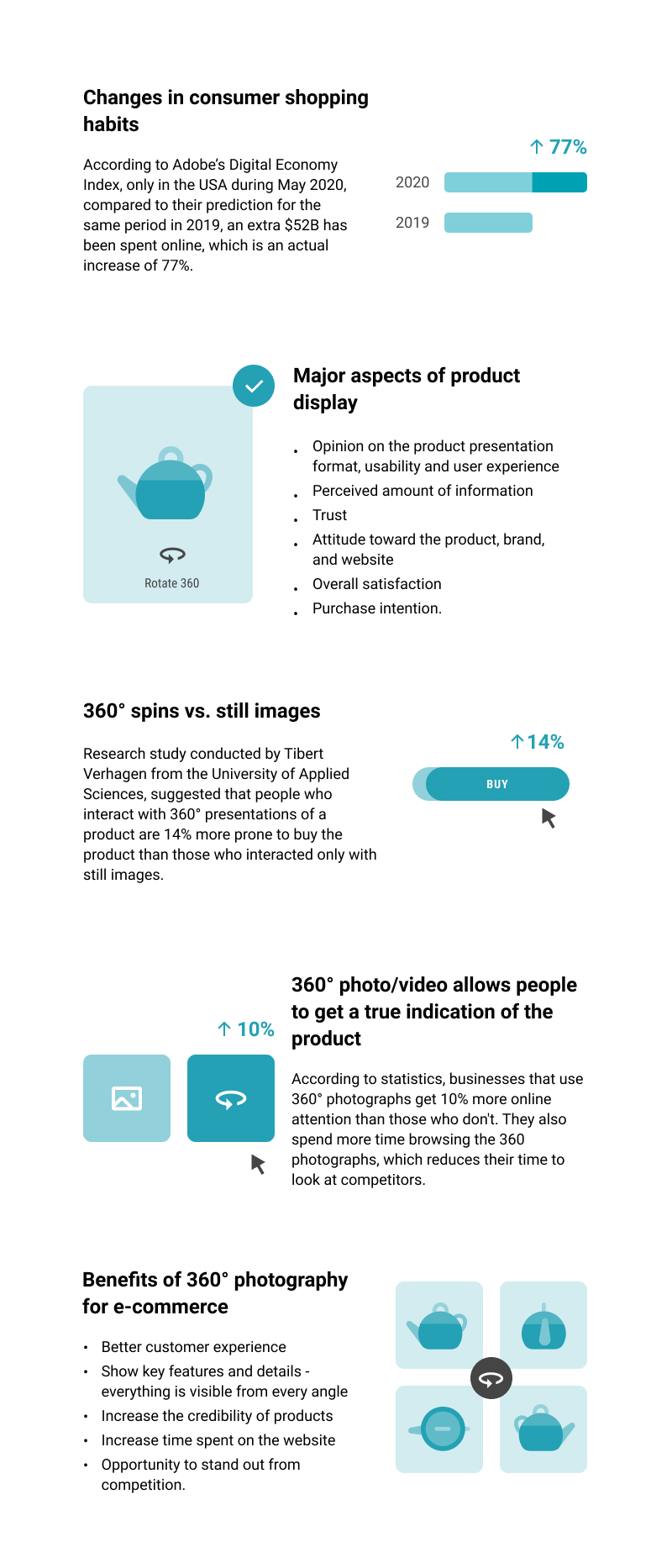 One day back in 2016, my friend Witold Jermołowicz introduced me to product photography, explaining different passions about his job. At that moment, my knowledge about this topic was at the level of a toddler struggling to understand how to walk. Well, my friend didn't stop there; he hit me with the concept of 360° product photography, which was still crawling during the ecommerce boom. This breakthrough concept allowed the customer to spin, rotate, and even interact with the presentation.
From that day on, his passion for photography has become mine and we started working together on globalizing the business. On daily basis, we meet new people who work in ecommerce-related business; some of them work in commercial sectors, some work in the operational sector, while others work in the technical sector (i.e photographers and IT developers), not to mention the size of companies, starting from self-employment, reaching to the multinational corporations. Majority of these people always ask the same "two- part" question:
"Why do we need 360° product photography and how can we make the 360° product spin happen?"
To answer this question, we need to look deeper at each of its parts. The first part concerns the importance of product photography in the modern E-business, especially in 2020, since the international shape of the business after Covid-19 will not resemble what it was before. According to Adobe's Digital Economy Index, only in the USA during May 2020, compared to their prediction for the same period in 2019, an extra $52B has been spent online, which is an actual increase of 77%. This massive change in consumer habits will force offline businesses to go online, and the already existing online businesses to improve their online presence. In both scenarios, there is a substantial urge between these businesses to provide a decent online quality in order to gain a bigger share from newcomers. This quality appears in different aspects, but most importantly, it concerns the shape and the appearance of the product, the interactive nature of the presentation and elaborateness of display.
After this impressive fact about high quality needed in online stores, the question of "why do I need 360° presentations in my webshop" is still there! Here you have the academic answer to that, a research study conducted by (Sorachai Kamollimsakul, 2018), a researcher at the Suranaree University of Technology Nakhon Ratchasima, Thailand. This study tests different formats of product display and measures the following six major aspects:
Opinion on the product presentation format, usability and user experience
Perceived amount of information
Trust
Attitude toward the product, brand, and website
Overall satisfaction
Purchase intention.
Based on the combined analysis of all previous aspects, the researcher found that websites that support 360° spin rotation are significantly more advanced in all scores than either websites with multiple still images or with multiple images with zoom.
Another research study was conducted by (Tibert Verhagen et al, 2016) a researcher at the University of Applied Sciences, Amsterdam, Netherlands. It suggested that people who interact with 360° presentations of a product are 14% more prone to buy the product than those who interacted only with still images.
In order to support the academic findings on the importance of 360° product photography, I contacted professional photographers from all over the world, who are already advanced in 360° photography techniques. They provided various approaches to my question.
Our partner, Craig Bellingham, who manages a professional photography studio called Studio Kirmack, says:
"360° product photography most definitely is a great way to display products. 360° photo/video allows people to get a true indication of the product. According to statistics, businesses that use 360° photographs get 10% more online attention than those who don't. They also spend more time browsing the 360° photographs, which reduces their time to look at competitors."
Another of our partners, Gustav Clausen, who owns also a photography studio pixomize.dk, says:
"We believe that 360° is the future of ecommerce, and it gives both ecommerce platforms and their customers great benefits, such as:
Better customer experience
Show key features and details – everything is visible from every angle
Increase the credibility of products
Increase time spent on the website
Opportunity to stand out from competition"
Another partner — Rob Cohen, who has an interesting marketing approach towards 360° presentations, says:
"360° rotation will grow in importance, the ability to shoot 360° will be used more and more in "micro animations" where the product turns partially, creating a movement effect, embedded within a commercial or other digital assets"
In a nutshell, 360° product photography has many different features and efficient applications over any other method of displaying products online. This feature will open a wider door for every individual and company to improve their position in the new E-business worldwide, especially if they decide to advance their efficiency and professionalism in E-commerce business.
Second part coming soon.
Waleed Shleha
Regional Manager in Orbitvu